On Monday, August, 21, 2017 a solar eclipse will be visible (weather permitting) across all of North America. If you are in Portland, Oregon you will be able to see a 99% solar eclipse. A solar eclipse occurs when the Moon blocks any part of the Sun. The map below shows the path of totality across Oregon. The State is preparing for upwards of 1 Million visitors. For reference, Oregon has roughly 4 Million people. An influx of 25% of the population is anticipated to arrive. If you must travel to a location away from home, be prepared for significant traffic and competition for gas, water and lodging.
SOLAR ECLIPSE — PORTLAND, OREGON — 9:00 to 10:19am — AUGUST 21, 2017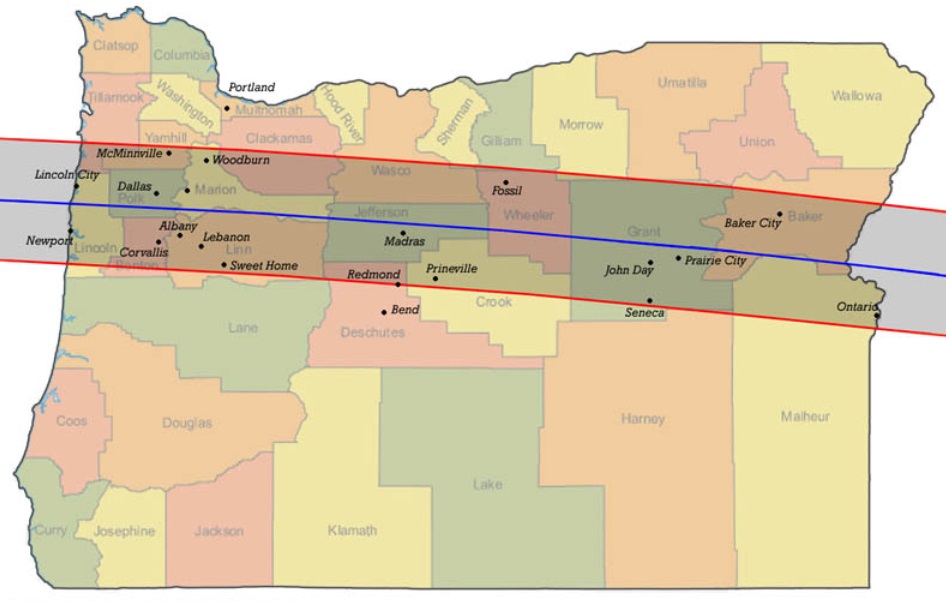 PROTECT THOSE PEEPERS
The following safety requirements are approved by the American Optometric Association for adults and children. These are requirements and not suggestions.
Use approved solar eclipse viewers. The only safe way to view a partially eclipsed sun is through "eclipse glasses" or viewers that meet international standard ISO 12312-2 for safe viewing. Do not view the eclipse through Sunglasses, smoked glass, unfiltered telescopes or magnifiers, and polarizing filters as these are unsafe and may compromise your vision. We recently checked several Portland area Fred Meyer stores and all had solar eclipse glasses in stock for roughly $2 each. A fun project for kids and parents to do together is to build a pinhole projector to watch the eclipse.
Technique of the pros. Before looking at the sun, cover your eyes with the eclipse viewers while standing still and looking away. Glance at the sun, turn away and then remove your filter. Do not remove the filter while looking at the sun.
Totality awesome. Only within the path of totality-and once the moon completely blocks the sun-can eclipse viewers safely be removed to view totality. Once the sun begins reappearing, however, viewers must be replaced. If you are located outside of the path of totality (even Portland), you may not remove your eclipse safety glasses during the eclipse.
Visit your doctor of optometry. If you should experience discomfort, blurry vision, migraines or vision problems following the eclipse, call Dr. Annie Bacon 503-227-0573 or schedule online at Eye Department for a comprehensive eye examination.